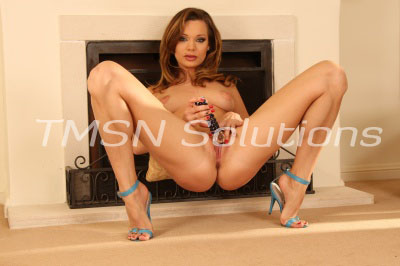 That crawl over to the cabinet, slow and sensual, made me more wet with each slinky movement.  The object of my desire lay just beyond those doors.  And when I felt the weight of that gorgeous toy in my hands, I leaned back to start the party…
Legs spread – wide – that meaty dildo slapping my lips.    I worked it in and out; screwing and grinding it into my hot hungry pussy.   My hips opening for more, I thrust it furiously inside.  The wet gushing sounds, echoing my dirty little desires.  Tits bouncing, hips rocking wild, and thighs quivering with hunger –  my moans filled the room… the house.   And yet, there it was again.  It was clearer this time – a wet, slapping sound that I knew I wasn't making.
Then I saw him.  That geeky tech support guy staring right at me.   I thought I had closed my session; but my webcam was still on and he had been with me the whole time.  Wanking.   I pulled out and reached for my clothes.  He kept wanking.
"Ma'am, do you have anything else that you need help with today?"
I moved over to my machine and said:
"I want your name and Employee#.  I am going to tell…"
He cut me off, the little prick.
"Well then, thank you for contacting customer support – you have yourself a great day.  Do take a moment to fill out our satisfaction survey".
And he was gone.